Return to Headlines
Miller's Addison Odam named finalist in 2018 Texas History Essay Contest
Miller's Addison Odam named finalist in 2018 Texas History Essay Contest
Congratulations to Miller Middle School student Addison Odam for being named a finalist in the 2018 Save Texas History Essay Contest. The contest encouraged students from across Texas to answer the question: "What history in your community is worth saving?" Addison chose to write about the historic First Baptist Church of San Marcos. Addison received a $100 gift card courtesy of the Rotary Club of Austin and the Sons of the Republic of Texas, and a Texas flag that has flown over the northernmost point of the Republic of Texas (in present-day Wyoming). Addison also received a Texas History backpack and a replica of an historic map from the GLO Archives map collection, and a Certificate of Achievement signed by Commissioner Bush.
Read a copy of Addison's submission below: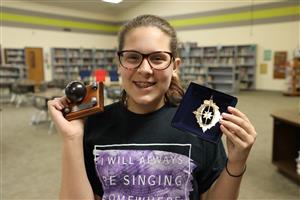 Re-Opening The Doors To The Old Church
There I am, standing in an old church, hoping the floors would continue to hold my weight. The brittle walls are on the brink of extinction. I walk over to where the pastor would once tell the people in hard times that everything was going to be okay and give them hope. Through all of this ruin and sadness, I can still hear the beautiful chorus of people singing, "Amazing Grace."
The historic First Baptist Church of San Marcos, Texas has stood for over 110 years. Before its construction, African-Americans in town gathered at a different site, but, tragically, in 1873 the Ku Klux Klan burned that space down. Instead of running away, the community stood their ground and 35 years later finished rebuilding the church at what is now 219 Martin Luther King Dr. Since then, the church has served as a centerpiece for the African-American community, and showcased their strength and resilience. The entire neighborhood knew they could head to the church if they ever needed a pick-me-up. There they attended the milestones of their lives including weddings, funerals, baptisms, and more.
I look over to where the pastor would preach the word of God. I walk to where he would stand and I imagine all of the people staring. Most of them are looking at him, while others are looking through the hymnals, and still others are just admiring the beauty of the church itself. I stop imagining for a moment and become sad that no one can see that beauty anymore. At least, not right now.
In 1986, the city shut down the church due to its age and because it was no longer usable. It was officially deemed unsafe in 2009. Many businesses have tried to buy the church and its property just to demolish it and construct something new, but luckily, all attempts have failed. The current owner of the church had plans to destroy it, but after learning more of its history, he now wants to save the church from ruin. While the property recently was awarded a $150,000 restoration grant, judging by the condition of the building, it will take a lot more than that to restore it completely. Once the restoration process begins, work will need to be done on the leaking roof, deteriorating walls, chipped paint and broken window frames. All of this, plus basic foundational repairs will be needed to make it safe.
I walk towards the doors covered in wooden boards to keep people out, but what I see is a flood of wonderful people coming in to hear God's word on a sunny, Sunday morning. I follow the groups of people to their seats. We sing a few lovely songs and praise the Lord and Savior. Once the sermon is over, I see people talking with friends they may only see every Sunday at church. I watch as the children run around on the polished floors while their mothers get mad at them for messing up their outfits. I notice that the mothers are wearing their very best dresses and the gentlemen their finest suits. I think about how, despite how hard they may work throughout the week, everyone here is relaxed and thankful as they gather for another Sunday in their second home.
The reason I believe this church must be saved is because it stands for something not many other buildings can. The church stands for a group of people not backing down, not afraid to believe in what they believe. It stands for a society of people willing to risk everything to stand up and fight against those who wished they simply weren't there. I want others to hear the story of this church and the generations of people who worked hard to keep it standing. I want those that hear the story to learn to not back down and to stand up for what they know to be right. As people learn about this church and what it has gone through, I hope everyone can learn from the mistakes of the past to create a better future. I learned a great deal about this breathtaking church through my research and really believe it to be history worth saving. I believe its restoration can bring hope to our community and I plan to help make this dream a reality.
I look around me one final time and once again see powerful items from the past. I look to the pictures around the church, each representing something new. Love, hope, peace, joy… remembrance. I think about all the things I have imagined and hope that none of us will have to just imagine anymore.

Bibliography Page
Anna Herrod. "Historic First Baptist Church of San Marcos Wins $150,000 Grant for Restoration." Community Impact, 29 Oct. 2018, communityimpact.com/austin/san-marcos-buda-kyle/city-county/2018/10/29/historic-first-baptist-church-of-san-marcos-wins-150000-grant-for-restoration/.
Hannah Wisterman. "San Marcos Fights to Preserve Historic First Baptist Church." The Austin Chronicle, 19 Oct. 2018, www.austinchronicle.com/daily/news/2018-10-19/san-marcos-fights-to-preserve-historic-first-baptist-church/.
Joey Matthews, director. The Story Behind Our Historic First Baptist Church. Main Street Program of San Marcos, 24 Sept. 2018, www.youtube.com/watch?v=fJD-bDci0CI.
Sawyer Click, and May Olvera. "Community Rallies to Save Historic Old First Baptist Church." The University Star, 21 Oct. 2018, star.txstate.edu/2018/10/community-rallies-to-save-historic-old-first-baptist-church/.