Phone: 512 393-6845
Email:
Degrees and Certifications:
-4 Year Letter winner - Women's Basketball, Texas A&M University, College Station, 1985-1989. -BS in Health Education, Texas A&M University -MA in Education/Kinesiology, UT San Antonio -MEd in Education Leadership, Lamar University -Texas Teacher Certifications in: Health, Physical Education, Generic Special Education,English, Administration.
Mrs.

Veronda Kendall

Girls Basketball Head Coach
Girls Track Assistant Coach

2014 - current - Head Girls Basketball Coach, Assistant Track Coach
18 years Coaching Experience (Basketball, Track, Softball)
Coaching Stops at: Aldine ISD, New Waverly ISD, Huntsville ISD, San Antonio ISD, Schertz-Cibolo ISD and San Marcos ISD.
Phone:
Email:
Degrees and Certifications:
Associates Degree of Science (Cisco Jr. College) Behavior Science Degree in Education (Hardin Simmons University) Masters degree in Rec & Sports Management (Hardin Simmons University)
Ervin, Jermaine

I am originally from California but grew up in the Dallas area, as well as Abilene (West Texas Area). I have coached all sports at one point or another except Golf. I have committed my energy to providing athletes the best opportunity to obtain their maximum athletic growth and potential at the levels I have coached. I have dedicated my career to assisting student/athletes and helping them understand that they are students first and athletes in the bonus to what makes each of them special. I am excited to continue my journey here at RATTLER NATION !!!!

COACHING EXPERIENCE:

2020 - 2021 San Marcos Girls Basketball Varsity Assistant Coach

2019-2020 Akins High Boys Basketball Varsity Assistant Coach

2016 - 2019 Elgin High School Boys Assistant Basketball Coach, Girls Assistant Track Coach and Girls Cross Country Coach (2016-2017)

2014-2016 Travis Early College High School Boys Assistant Coach (Freshman); 2013-2014 Girls Basketball Varsity Assistant Coach

2002-2013 Paredes Middle School Football, Girls Basketball, Boys Basketball, Boys Track, Girls Track Coach
Phone:
Email:
Degrees and Certifications:
Dale Stonecipher

Girls Basketball Assistant Coach
Softball Assistant Coach

Dale Stonecipher was born in Indiana, and grew up where they filmed the movie Hoosiers. Dale's dad was a farmer, where he learned very early about hard work and why he should go to school. He moved to Texas at the age of sixteen and graduated High School from Dalhart, Texas. Upon graduation from High School he attended Wayland Baptist University majoring in mathematics and physical education. After finishing his undergraduate degree, he stayed at Wayland and received a Masters of Business Administration degree.

Dale then moved To Dallas where he worked for Automated Data Processing and married his wife Ronda, who is also a teacher. Then twenty-eight years ago they moved to the Lubbock area, where two children were born Kelsey and Ty. Dale coached and taught mathematics at little six-man football schools. During this time he completed his mid-management certification at Texas Tech. Upon completion of his mid-management certification his family moved to the San Marcos area.

Dale has had such interesting jobs as a truck driver, sanitation department, computer programmer, teacher, coach, assistant principal and principal. He has taught math at every level from seventh grade to calculus. He has coached everything from football, baseball, track, tennis, golf, basketball, cross country and softball. This is his tenth year at San Marcos and he is having the best time of his life. Dale has received the Most Valuable Coach Award for National Girls and Women in Sports Day from Texas State.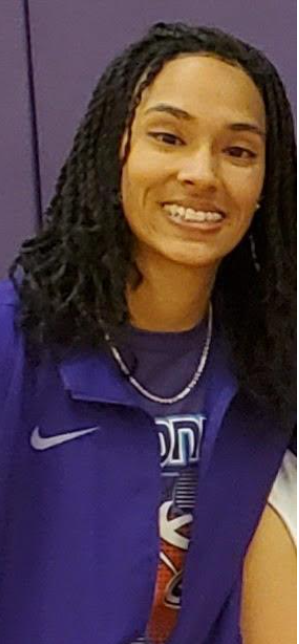 Phone:
Email:
Degrees and Certifications:
Exercise and Sports Science Core Subjects 4-8 SpEd EC-12
Alex Winrow

I am originally from San Antonio, Texas and graduated from Judson High School in 2011. I relocated to San Marcos to attend Texas State University. I earned a Bachelor's Degree in Exercise and Sports Science. I taught 7th grade science at Goodnight Middle School for 2 years. I also started the XC program and coached basketball and track. I transitioned to the high school where I will be co-teaching English III and coaching Freshman Volleyball and Basketball. Go Rattlers!!!
Last Modified on April 21, 2021