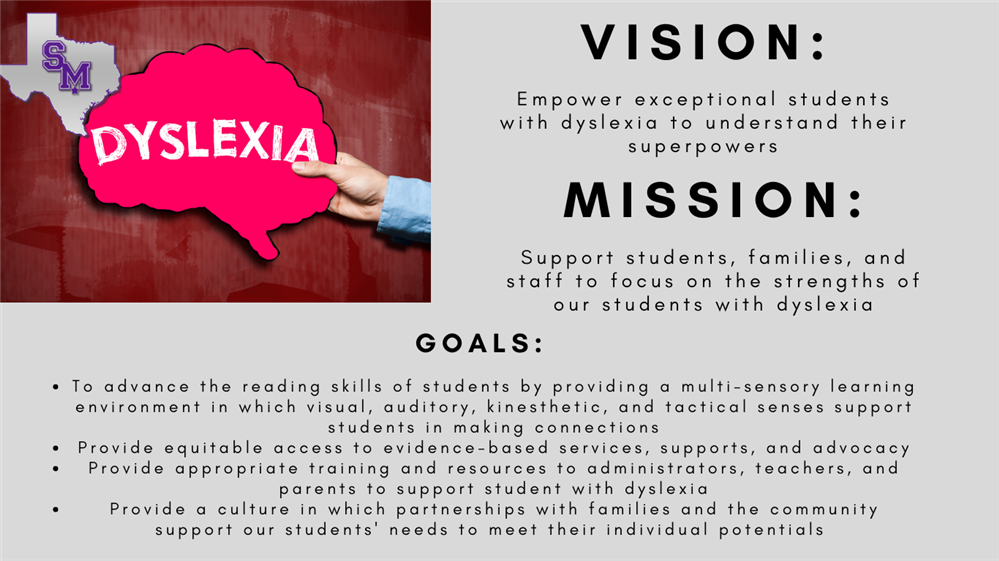 SMCISD Dyslexia Services
Curriculum

MULTISENSORY TEACHING APPROACH (MTA) is an alternative language arts program specifically designed for students experiencing serious reading difficulty, including dyslexia. It is based on Orton-Gillingham philosophy and techniques, and follows the introduction sequence of Alphabetic Phonics. MTA was field tested for nine years in both public and private school settings before it was published. A four-year trend analysis study (Reynolds, V., Vickery, K., and Cochran, S., Annals of Dyslexia, 1987) looking at both reading and spelling in regular and remedial classrooms showed highly significant gains for all remedial students as well as gains for regular classroom students, some also at significant levels.

MTA is a comprehensive language arts program addressing the areas of alphabet/dictionary skills, reading, reading comprehension, cursive handwriting, and spelling. Guided discovery and multisensory techniques are utilized for introducing, reviewing, and practicing skills in the curriculum areas listed above. These techniques involve students as active participants in their own learning process. Criterion-referenced Mastery Checks are administered periodically throughout the curriculum. Mastery criteria are 90% for spelling and reading. MTA addresses all descriptors of appropriate dyslexia programs as described by the International Dyslexia Association, and those in the Texas Dyslexia Procedures. More information can be found at: https://mtspublications.com/about-mts/.

The San Marcos CISD dyslexia program utilizes Reading by Design and Wilson Reading System

Reading by Design m is a systematic, multisensory set of instructional routines which include content and pedagogically appropriate practices compiled from sources, such as Foundations for Literacy: Structures and Techniques for Multisensory Teaching of Basic Written English Language Skills by Aylett Royall Cox (1980). This program is aligned with research‐based practices for developing literacy and is designed for students with basic reading difficulties, such as dyslexia. This intervention follows an intensive, explicit, and cumulative design for remediation of reading and writing skills at all grade levels. Reading by Design includes all of the components of instruction and instructional approaches supported through research as cited in the The Dyslexia Handbook –Update 2021. Includes the following components: phonological awareness,sound-symbol association, orthography, morphology, syntax, reading comprehension, and reading fluency.

Wilson is a structured literacy program based on phonological-coding research and Orton-Gillingham principles. From the beginning of the program, students receive instruction that is multi-sensory, systematic and focuses on phonics, decoding, encoding, morphology, phonemic awareness, proofreading, fluency & comprehension.
Mrs. Nelda Reyes, Dyslexia Specialist at De Zavala Elementary

Mrs. Liz Smith-Gray, Dyslexia Specialist at Mendez Elementary

Mrs. Karent Wright, Dyslexia Specialist at Bowie Elementary
For more information, please contact:

Dr. Elena Villanueva

Director of Multi-Tiered System of Supports (MTSS)

phone: 512-393-6734

email: elena.villanueva@smcisd.net