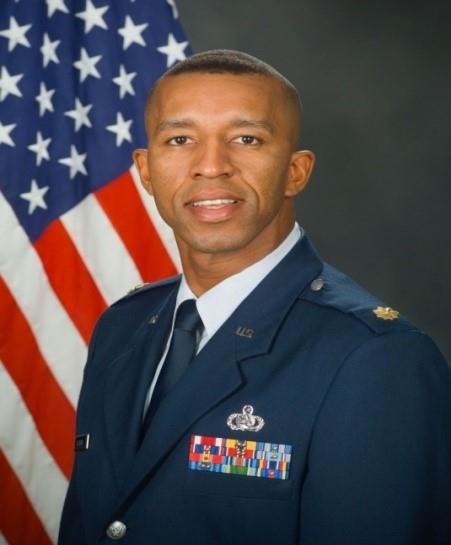 Maj. (r) Anthony "Tony" Williams
Please contact me at anthony.williams@smcisd or 512-393-6878 (please leave a message).
Maj. (ret) Anthony D. Williams is the Senior Aerospace Science Instructor (SASI), TX-921 Air Force Junior Reserve Officer Training Corps (AFJROTC) at San Marcos High School, TX. The mission of AFJROTC is to develop citizens of character dedicated to serving their nation and community. Prior to his arrival at San Marcos High School, Maj. (ret) Williams served as the Director of Training for Headquarters Air Force ROTC. He was responsible for Professional Development Training and curriculum implementation for over 8,000 college students at 344 colleges and universities across the United States. He enlisted in the Air Force in 1989 and was commissioned through Officer Training School (OTS), Maxwell AFB, AL as a Distinguished Graduate in October of 1996. Maj. (ret) Williams attended Basic Communications Officer Training (BCOT) at Keesler AFB, MS where he was also recognized as a Distinguished Graduate in February 1997. During his 24 years of active duty service, he has been a Flight Commander, Wing Executive Officer, Squadron Commander, and deployed Squadron Commander in support of Operation Iraqi Freedom and Enduring Freedom with qualifying service during Operation Desert Shield/Desert Storm. In 2008; he was competitively selected as a Military Legislative Fellow for the Senior Senator from Florida, working Defense, Space, and Technology issues.
I'm Maj. (r) Anthony "Tony" Williams and I'm the Senior Aerospace Science Instructor (SASI) here at San Marcos High School.

The mission of Air Force JROTC is to "Develop citizens of character dedicated to serving their nation and local community." Our motto at San Marcos High School is "TX-921; Second To None."

Our organization and structure is based on the standardized AFJROTC Curriculum patterned after the Air Force military model. However, we are NOT a military organization and there is NO MILITARY requirement to join the military by taking classes in AFJROTC.

We have a tremendous record of success with students who graduate from our program and I hope you would allow us an opportunity to help your young person develop to her or his fullest potential.

Sincerely,

TW

Maj (r) Anthony "Tony" Williams